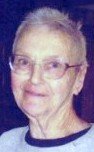 Obituary of Edith L. Hussey
Dover-Foxcroft – Edith "Edie" L. Hussey, 89, wife of the late Elwood C. Hussey, passed away March 5, 2019, at her home with her family by her side. She was born July 28, 1929, at Beth Averill Nursing Home in Dover-Foxcroft, the daughter of Roy Alan and Harriett E. (Noyes) Ladd.
Edie was educated in Dover-Foxcroft schools. She always said that the best years of her education were walking down the road to the one room Bear Hill schoolhouse from the Lone Pine Farm where they also boarded the school teacher. She enjoyed quilting, making current event scrap books, cross country skiing, and swim and exercise classes at the YMCA. She enjoyed her front desk job as a volunteer at Mayo Regional Hospital, giving over 12,000 hours of service.
Edie was a member of the United Baptist Church, Friends of the Thompson Free Library, the Dover-Foxcroft Historical Society, Little Red Schoolhouse Association, Piscataquis Regional YMCA, Arcady Music Society, Foxcroft Academy Scholarship Association, and Retired Senior Volunteer Program.
Edie is survived by two daughters, Gail Bozzell (Al) of Finksburg, MD, and Swan Colpitts (Jim) of Alamogordo, New Mexico; a son, Alan Hussey (Mary) of Sturbridge, MA; a brother, Richard Ladd of Freedom; 4 grandchildren; 7 great-grandchildren; numerous nieces and nephews; and a son-in-law, Paul. She was predeceased by her husband, and a brother, Bob Ladd.
Friends are invited to call 6-8pm Thursday, March 7, 2019, at the Lary Funeral Home. A funeral service will be conducted 11:00 a.m. Friday, March 8, 2019, at the United Baptist Church, Dover-Foxcroft. In lieu of flowers, memorial contributions may be made to Beacon Hospice, 289 State Street, Suite B, Bangor, ME 04401. Burial will be in the family lot in Pine Grove Cemetery in the spring. Messages of condolence and memories may be expressed at www.laryfuneralhome.com.