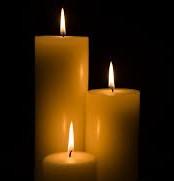 Obituary of Andrew John Talley
Abbot - Andrew John Talley passed peacefully into the arms of the Lord on January 19, 2019, at his home. He spent his final days in his little house on the pond, in the company of family and his beloved and well-nourished canine companion, Willie, just as he wanted.
Andy ("Gordon" or "Butch," depending on where you met him) was born in Bryn Mawr, PA, and attended Conestoga High School, York Junior College, and West Virginia University. He had a number of careers before realizing his dream of retiring to Maine, including working for Gulf Oil, selling real estate, and finally managing the office of a construction/roofing company in Philadelphia.
He was a loving father and brother, a doting grandfather, a generous and loyal friend, and his laughter and cooking will be missed by all who were fortunate enough to enjoy them. He is survived by his sons, David and Dan; his daughter-in-law, Rita; his grandchildren, Ben, Shannon, and Maddie; his sister Rose; and his brother Mikie.
A memorial service will be held 11am Saturday, January 26, 2019, at the Abbot Evangelical Free Church.. Arrangements are in the care of the Lary Funeral Home. Condolences may be expressed at www.laryfuneralhome.com.
Our Funeral Home Is Proud to Be Family Owned and Operated
Dedication to personal and caring service.