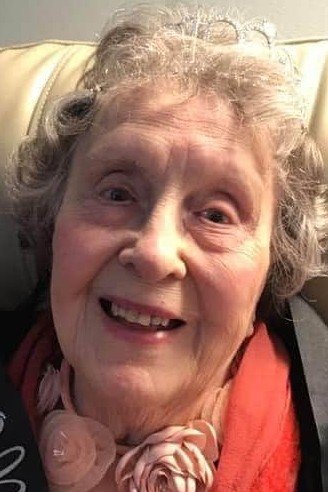 Obituary of Genevieve H. Sturtevant
Milo - Genevieve Helen (Tonyes) Sturtevant, 101, sleeping peacefully, passed into the glory of heaven, on July 25, 2020, where she is now face to face with her Savior, Jesus. Genevieve was born January 28, 1919, in Brooklyn, New York. When she was eight, the family moved to Springfield Gardens, Long Island, New York. Genevieve met her husband Leroy at Eastern Nazarene College in Quincy, Massachusetts. They were married August 28, 1948; it was a sweltering day in Springfield Gardens. They moved to the Sturtevant Family Farm in Milo, atop a hill with the best view of Mount Katahdin to the north. Genevieve and Leroy were blessed with four daughters. She was a co-caretaker of elderly folks who boarded in their home. As a pastor's wife, Gen was a helpmate to Roy, who pastored the Church of the Nazarene in Milo. Later, after his passing she attended the Dover-Foxcroft Church of the Nazarene. She enjoyed singing, directing children's choirs, participated in local cantatas, festivals and service clubs. Genevieve was creative and was an accomplished seamstress and knitter, cook and baker, painter, and gardener; especially growing African violets. She enjoyed beauty in its many forms; music, art, nature and fashion. She loved to laugh. She enjoyed raising dogs; collies, her cockapoo, and West Highland terriers. Spending time with her grandchildren brought much joy. After the death of her husband, Gen was blessed with many years of travel adventures: riding cross country with daughter Lois, an Alaskan cruise and a trip to Europe with longtime friends, and many family visits to Arizona, New York, Nevada, Massachusetts and within Maine. She was predeceased by her husband Leroy of 34 years, her parents, Henry Tonyes Sr. and Mary (Smith) Tonyes; three brothers, Jackie Tonyes, Edwin and his wife Margaret Tonyes, and William Tonyes; sister-in-law Louise Tonyes; her Aunt and Uncle, Helen and Edward Wisbauer; Aunt and Uncle, Ida and Winfred Bloom; and cousins, Edward Wisbauer, Jane Wisbauer; Winfred Bloom Jr., Clarence Bloom, Viola Bloom. Genevieve is survived by daughters, Susan and husband, Bob Ellenberger, of Plymouth, Massachusetts, Stephanie and husband, Tom Gillis, of Milo, Maine, Lois and husband, Rick Blake, of Gilbert, Arizona, Beth and wife, Tania Sturtevant, of Yarmouth, Maine. Her beloved grandchildren include: Joanna and husband, Erik Ersland, of Gilbert, Arizona, Matthew and wife, Kerri Ellenberger, of Plymouth, Massachusetts, Jonathan and wife, Kayla Ellenberger, of Pembroke, Massachusetts; Lesley Gillis and Jeff Melmed of Bangor, Maine, Tom and wife, Marie Gillis, of Berwick, Maine, Stephen and wife, Kara Gillis, of Veazie, Maine, Chet and wife, Brittney Gillis, of Milo, Maine, and Sophia Sturtevant of Yarmouth, Maine. Great grandchildren blessings include: Tessa and Lily Ersland; Maia, Ruby and Milo Ellenberger; Beverly Ellenberger; Oliver, Jack, Cooper and Phoebe Gillis; Reese and Brooklyn Gillis; Isabella Gillis and her soon-to-be sister. Genevieve is survived by her brother, Henry Tonyes of Newburgh, New York, sister-in-law, Patricia Tonyes of Hauppauge, New York, cousin, Jeanne and Harry Wisbauer-Lewis of Ona, Florida, faithful friends and many nieces and nephews. The family is grateful for the compassionate care given to our Mother for seven years at Hibbard Nursing Home, Dover-Foxcroft. If you wish to make a memorial donation in Genevieve's name, please consider giving to: The Dover-Foxcroft Church of the Nazarene, P.O. Box 306, Dover-Foxcroft, Maine 04426 or Hibbard Nursing Home, 1037 West Main Street, Dover-Foxcroft, Maine. Being considerate of Covid-19 restrictions, a private family Celebration of Life has been planned. Arrangements are in the care of the Lary Funeral Home. Condolences and memories may be expressed at www.laryfuneralhome.com.
Celebration of Life
A Celebration of Life will be private.


Share Your Memory of
Genevieve