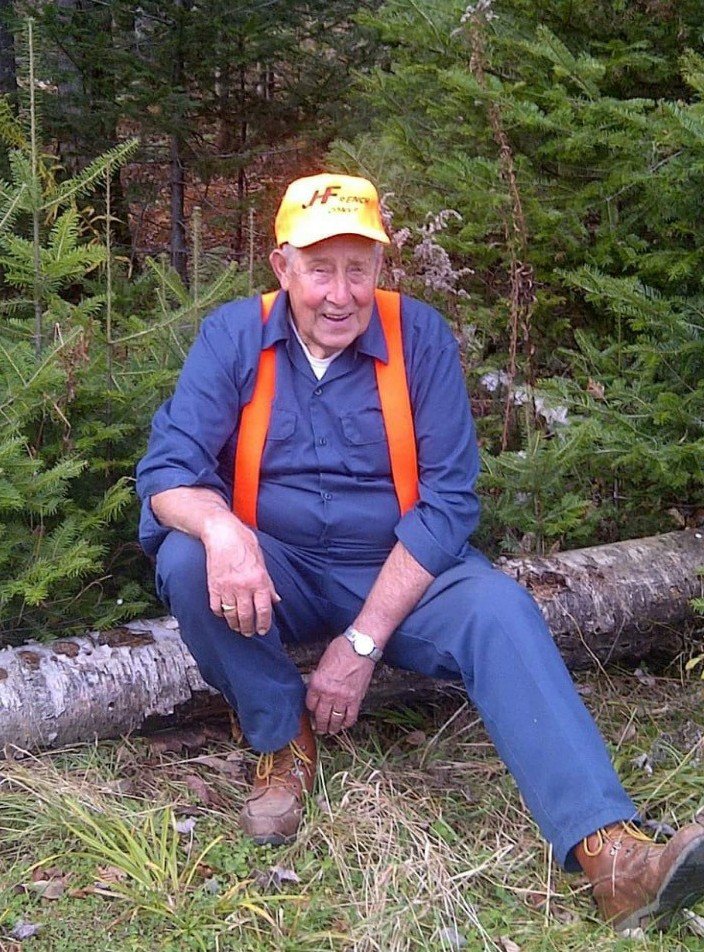 In Memory of
Harold W. ""Guff"" Kimball
1931 - 2019
Graveside Funeral
11:00 am
Monday, November 11, 2019
Pingree Center Cemetery
Rt 150
Parkman, Maine, United States

Get Directions
Celebration of Harold's Life
12:00 pm
Monday, November 11, 2019
Home of Kamron and Julie Kimball
477 North Dexter Road
Parkman, Maine, United States

Get Directions


Obituary of Harold W. Kimball
Parkman - Harold Wayne Kimball "Guff", 88, died November 8, 2019, peacefully at home surrounded by loved ones.
Harold was born October 27, 1931 in Parkman, the son of William Howard and Ruth (Martin) Kimball. Harold enlisted in the Air Force. In 1953, he married E. Joyce Libby and moved to Chicopee, Massachusetts where he was stationed at Westover Air Force Base. After starting a family, they returned to his home, his first love, Parkman. They bought and ran Kimball Slaughter House in Parkman for several years. Guff worked for the Department of Transportation hauling gravel, running heavy equipment, sanding roads and later as a supervisor. His father, Howard, a well-known outdoorsman, taught Harold how to enjoy the outdoors from hunting and fishing to trapping. He passed this love to his children and then his grandchildren and great-grandchildren. Many November evenings have been spent all together cutting, wrapping and eating the deer meat with laughter and stories of past hunting seasons. Guff could be seen running a bulldozer, an excavator or enjoying "happy hour" on the porch at camp. Harold explained he was a simple man who helped raise a good family. He often remarked how lucky he was to have family and friends who care. His laughter will be missed.
He is survived by his four children: Robert and Tylene of Sangerville, Bill and Erin of Turner, Pamela and Rob Sukis of Parkman and Terry and Andy Lovell of Sangerville; nine grandchildren: Kirk and Karen Kimball of Kennebunk, Kamron and Julie Kimball of Parkman, Chad and Stephanie Kimball of Dover-Foxcroft, Kylie and Scott Tremble of Cumberland, Seth and Lindsey of Cumberland, Kassy and Amir Baig of Skowhegan, Bobbi Dulac and Robert Randazzo of Englewood, Florida, Logan and Lauren Lovell of Guilford and Nolan and Brianne Lovell of Guilford; seventeen great-grandchildren: Halle, Sophie, Kendall, Khloe, Kallen, Christian, Katelyn, Krista, Ian, Dylan, Hunter, Wesley, Lincoln, Jonah, Aayan, Zaydeen, and Landon; and his brother-in-law, Thane Clifford. He was predeceased by his parents; sisters, Geneva Clifford and Dorothy Scott; his wife of 53 years, E. Joyce Kimball; and special friend, Jean Edgerly.
Graveside services will be held on Monday, November 11th at 11:00 a.m. at the Pingree Center Cemetery in Parkman. A celebration of life will immediately follow at Kamron and Julie Kimball's home at 477 North Dexter Road in Parkman. In lieu of flowers, memorial contributions may be made to the Parkman Grange, P.O. Box 114, Guilford, Maine 04443. Arrangements are in the care of the Lary Funeral Home. Messages of condolence and memories may be expressed at www.laryfuneralhome.com.


Share Your Memory of
Harold