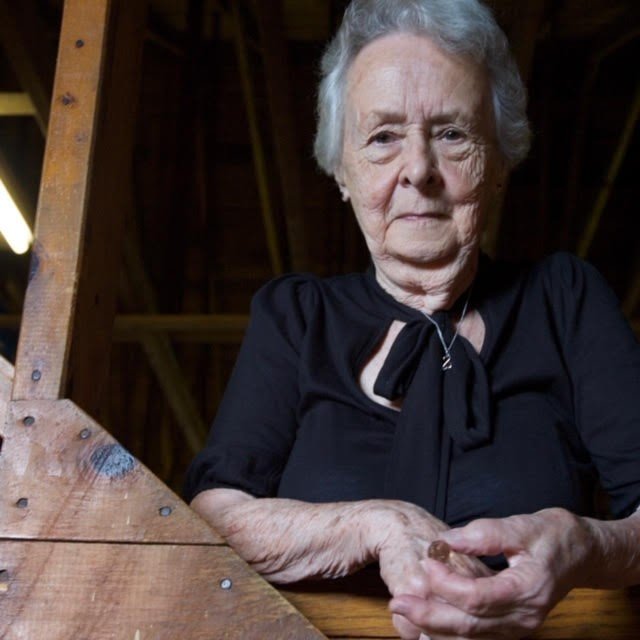 In Memory of
Marion Blanche Smith
1923 - 2019
Celebration of Life
1:00 pm - 3:00 pm
Sunday, November 10, 2019
Lary Funeral Home
62 Summer St.
Dover-Foxcroft, Maine, United States

Get Directions


Obituary of Marion Blanche Smith
Dover-Foxcroft - Marion Blanche Smith, 95, known lovingly as Meme, was born to John Haggstrom and Olga (Björk) Haggstrom at their farm outside Monson on Nov. 25, 1923. Her mother regaled for years how Marion's arrival kept her from hosting Thanksgiving dinner!
Marion possessed the spunk and charm becoming of a fourth daughter. She attended Monson Academy and Greenville High School before graduating from Foxcroft Academy in 1942. She worked as a telephone operator and at The Tea Room at Greeley's Landing where she met the love of her life, Francis D. Smith. Their first date was unforgettable as they watched his childhood farm on the Milo road burn up in flames. When invited to high tea by his mother that summer, Marion and her friends arrived in heels, gloves, and bathing suits.
The flames in their hearts survived Francis's enlistment in the Army and Marion's move to Massachusetts with her sister. Against the will of his mother, they eloped while stationed in Little Rock, AR. They were married in the base chapel and had breakfast in the Marion Hotel when Marion arrived. After the Army, while Marion dreamed of California, they returned to Maine to raise their family.
For many years, Marion, Francis, and their children wintered on River Street and summered on Sebec Lake. They ran the D-F Appliance Co. and Smitty's Camps. They also ran the Sebec Lake Lodge with the Allens, where they hosted guests and parties that rocked the lake. After moving permanently to Greeley's Landing, Marion ran a small gift store—The Bear's House.
Marion spent many years volunteering with the Abenaki Girl Scouts and working at St. Thomas Aquinas and the U of M Cooperative Extension Service. Her fondest memories were of working at the Pisacatquis YMCA, where she greeted the community. She fondly remembered the people, working late nights and driving home in the snow.
Marion loved traveling after her solo trip to Little Rock. She traveled often around New England and made annual trips to Florida to visit her son and grandson until they moved to Maine. In her 80's, she visited her granddaughters in California and Hawaii where she watched the sunrise from the top of Haleakalā, danced at a luau, wine tasted in Napa, waved her arms from a convertible over the Golden Gate Bridge, and spent her 85th birthday eating Ethiopian food with techies in Silicon Valley. She was always willing to try something new.
However, she loved being on Sebec Lake more. She loved the calm and the commotion. She swam like a fish when the ice receded, and was the last one out before the snow. Her smile is what brought us home each summer for BBQs at camp, dips in the lake, fireworks off the wharf, and ice cream at Butterfield's.
And yet, her true love was for her children, grandchildren and great grandchildren. She cared for us all—raising us, feeding us, attending school events, teaching us to drive, giving us our first computer, and being a role model as a strong, independent, hard-working woman who was dedicated to her family and community. Marion was a true force of nature.
What she wasn't, was invincible. She died on Oct. 24, 2019, having lived a life worth living. Marion was predeceased by her parents; her husband of 54 years; her sisters and their spouses Frances and Norman Collins, Louise and Gerald Johnson, and A. Virginia and D. Henry Uenas; the sister of her heart Theresa Rochon; her nephew Stephen Collins; and friend Frank Allen.
Marion is lovingly remembered by her daughter Ellen Morrissette and husband Paul; her son Paul Smith and partner Jo Ann Roy; her grandchildren Paul Smith Jr., Kelly Keenan and partner Morgan, Kevin Keenan and wife Jessica, Shawn Keenan and wife Diane, Sarah Eluk and husband Matthew; her great-grandchildren Grace, Shawn, Makayla, David, and Ryan; her nieces Susan Sturrock, Carol Rossick, and Harriet Place; her nephew Eric Uenas; and her best friend Virgie Allen.
Please join us on Nov 10 from 1-3 pm at Lary Funeral Home at 62 Summer Street in Dover-Foxcroft to celebrate Marion's life. The burial will immediately follow. Cards can be sent to Paul F. Smith, 9 State Park Road, Dover-Foxcroft, ME 04426. In lieu of flowers, gifts and donations may be made in Marion's name to Maine Area Al-Anon Family Groups, PO Box 351, Alfred, ME 04002 or the Piscataquis Regional YMCA, 48 Park St., Dover-Foxcroft, ME 04426.
We wish to express our gratitude to Theresa Tibbetts for the compassionate personal home care, and to Hibbard Nursing Home for the personal group care they gave to Marion. Most of all, thank you to Paul and Jo for giving Meme a loving and caring home for many wonderful years. We miss you, Meme!
Messages of condolence and memories may be expressed at www.laryfuneralhome.com.


Share Your Memory of
Marion