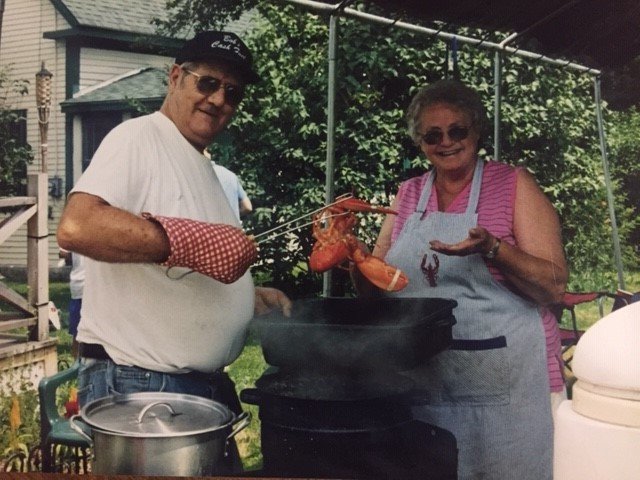 Obituary of Henry Lloyd Erickson
Monson- Henry Lloyd Erickson, 83, husband of Anna (Larson) Erickson of 62 years, went home to heaven on August 31, 2019. He was born January 16, 1936, in Guilford, the son of Rubin "Axel" and Marguerite (French) Erickson. Henry worked for many years in the woods operating equipment for Scott Paper Co.
Henry married his high school sweetheart in 1957, who never left his side. After 62 years of marriage, they created a large family, countless bird houses, thousands of hunting trips, and the Erickson legacy that will be carried on.
Henry loved hunting. Every year before hunting season you could find him sighting in his gun, rallying up his family and preparing for the month of hunting. He loved taking long rides with his children/grandchildren hunting his favorite spot. Henry enjoyed taking care of his grandchildren and great grandchildren with his love of his life, Anna. He never missed a sporting event in Greenville, where he could watch his grandchildren play.
Henry, known by many as Bampa, raised many children, grandchildren, and great grandchildren. Henry made sure every single person he met left with a smile on their face, and a full stomach.
Henry has a very large family, in addition to his loving wife, Anna, he is survived by his children, Lloyd Erickson and wife Melody, Jimmy Erickson, Tim Erickson and wife Julie, Bruce Erickson and companion Debbie, Tammy Kelley and husband Byron, Penny Benway and husband Blu; his grandchildren, Dustin Erickson and wife Kristen, Kylie Erickson and husband Charles, Bre Erickson and companion Frank Stone, Kristen Belanger and husband Phil, Nick Erickson, Zac Kelley and companion Lorinda Martin, Graham Benway, Amber Benway and companion Justin Berley, and Wayne; his great-grandchildren, Dayden, Devin, Liam, Charles, Owen, Madyson, Collin, Kinsey, and Axel; along with a very special cat Lucky.
He is predeceased by his parents Rubin "Axel", and Marguerite Erickson; his sisters, Alice Howard, Charlene Johnson; his brother, Vaughn Erickson; his mother and father-in-law, William Larson and Fern (Hersey) Larson; and his very loyal dog whom he loved very much, Hunter.
Henry's family will be holding a celebration of life 12-2p.m. Saturday, September 14th at Tammy Kelley's home in Blanchard. Arrangements are in the care of the Lary Funeral Home. Messages of condolence and memories may be expressed at www.laryfuneralhome.com.