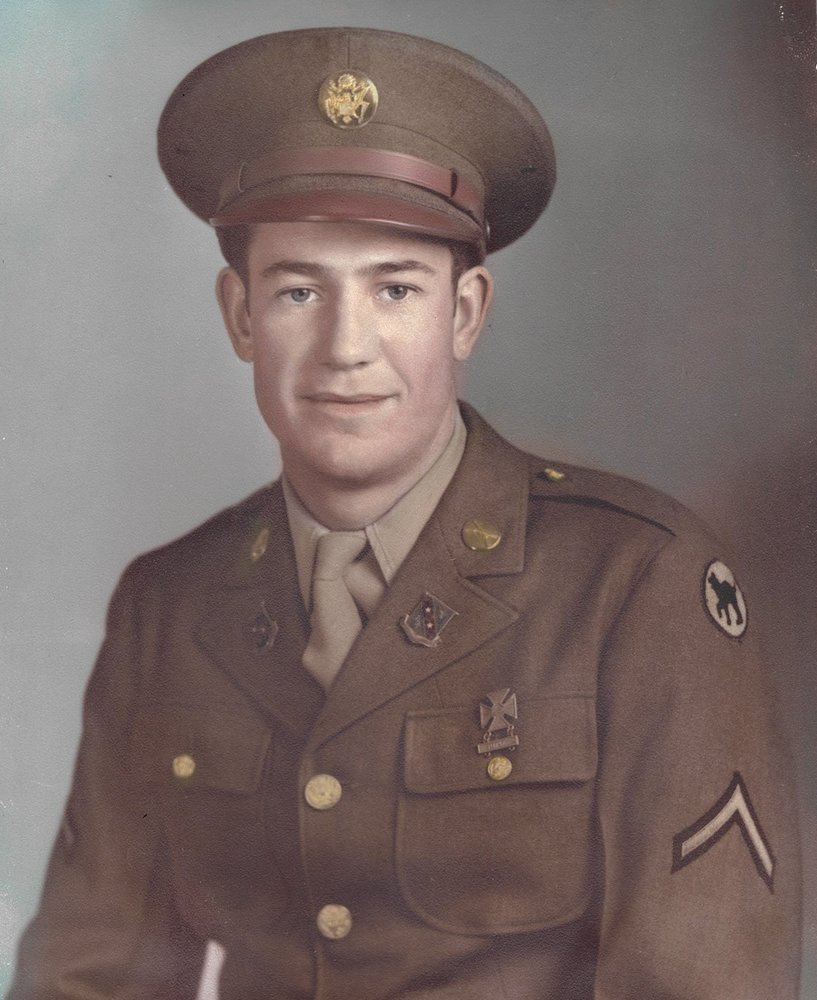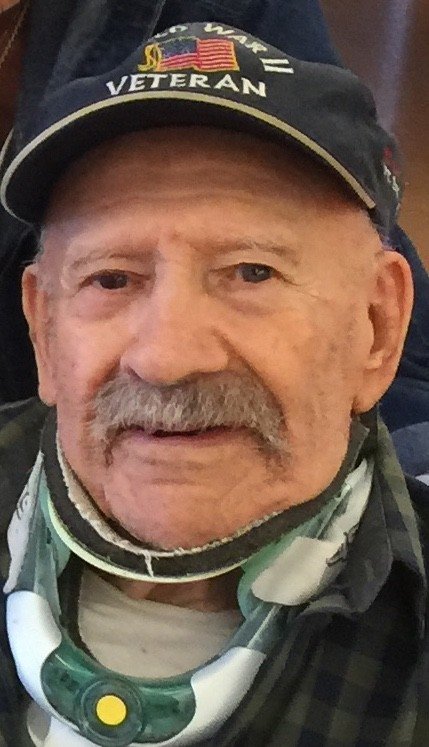 Obituary of Alton Lendall Leighton
Guilford – Alton Lendall Leighton, 98, passed away after a short illness at the Maine Veterans Home in Bangor on Sunday afternoon, August 4, 2019. He was born on May 11, 1921, in Willimantic, the son of Clifford and Myrtle (Hill) Leighton. Alton was inducted into the U.S. Army in 1942 and was very proud of being a World War II veteran, taking pride in being a member of the 81st Wildcat Infantry Division, driving jeep for the major, seeing battle as a radio operator on Anguar Island in the Pacific, and crossing the equator four times by ship in 1944-45.
Once discharged from the Army, he worked for his father-in-law, learning an electrical trade, ran the projector at the Guilford movie theatre for a while, and was a licensed oil burner technician, which he did on the side for many years. He had a long career working at Guilford Industries as a fixer for the Coning/Quilling Department until he retired. He loved fishing, hunting, the Red Sox, and the Patriots. He was always on the move, working with his hands. He was proud of the family home and camp he physically built. A life well lived!
Alton is survived by his loving wife, Marilyn (Woodard) Leighton; a daughter, Sharon Meredith of Lake Forest, CA; a son, Vance and wife, Cheryl, of New Hampton, NH; a son, Gary and wife, Pat, of Corinna; and a daughter, Janel and partner, Milton Preble, of Parkman. Alton's grandchildren are Shaun Meredith and wife, Debbie, of Portland, TX; Michelle (Meredith) Stately and husband, Denny, of Canon City, CO; Glen Meredith and wife, Lisa, of Mission Viejo, CA; Chrissy (Leighton) Paul and husband, Jay, of Holderness, NH; Thomas Leighton and wife Jessica, of Bristol, NH; Troy Leighton and girlfriend, Kelly Emerson, of Winterport; Trevin Leighton and wife, Jessica, of Corinna; Jeff Robichaud and partner, Lisa Dutton, of Sherman, TX; Lynn (Leighton) Torre and husband, Vinny, of Sangerville; and Dorothy (Estabrook) Leighton, of Gorham. Alton's great-grandchildren are Roman, London, and Grace Meredith, of CA; Samantha Janness, Chad Leighton, Izabella Monroe, Landon Fogg, Jeriah, Nicholas, and Mercedes Paul of NH; Troy, Jr., Jenna, Cade, Austin, Hunter, and Gabriel Leighton, Skylar and Molly Robichaud, Eric and Cassidy Jacobs, and Trinity Torre all of Maine; and also, three great-great grandchildren, Denny Eligh Stately of West Virginia, Channing and Ryker Robichaud of Maine. He is also survived by sisters-in-law, Lorraine (Woodard) Willey, of Guilford; Paula (Woodard) Philbrick and husband, John, of Prospect, VA; Viola Woodard, of Monson; Barbara Woodard of Sangerville; Janet Leighton of Norridgewock; and brother-in-law, Kenton Conroy, of Pleasant Ridge Plantation. He is survived by many beloved nieces and nephews and a dear friend who visited him often, Roger Lowell. Alton was predeceased by his parents, Clifford Sr. and Myrtle (Hill) Leighton; in-laws, Clinton (Cy) and Louise (Andrews) Woodard; sister, Evelyn and husband, Ervin Demmons; brothers, Elwin and wife, Wilma (Billie); Vergil and first wife, Gertrude (Trudy); Clifford Jr. (Fud) and wife, Gloria; brothers-in-law, Merle (Bud) Woodard; Roger Woodard and wife, Faylene; Carlton Woodard and wife, Hilda; Dale Woodard and John (Jack) Willey, Jr; sisters-in-law, Loretta (Woodard) McEwen and husband, Vince, first husband, William Cox, second husband, Merle (Terk) Greene; and Carole Conroy. He was predeceased recently by great-grandson, Denny Ward Stately of Canon City, CO, on May 23, 2019.
A memorial service will be conducted 1:00 pm Friday, August 30, 2019 at the Lary Funeral Home, 62 Summer Street, Dover-Foxcroft, ME 04426 on. After the service, burial with military honors will be held at the family lot in Lawn Cemetery, 56 Elm Street, Guilford, ME 04443. Reception will follow. Condolences and memories may be expressed at www.laryfuneralhome.com.