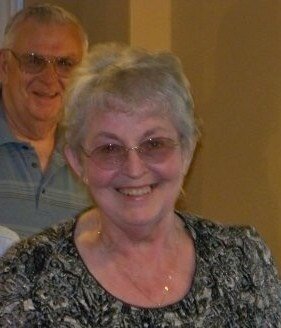 Obituary of Dian L. Bonsey
Dover-Foxcroft – Dian L. Bonsey, 80, died July 29, 2019, at Northern Light Eastern Maine Medical Center, with her loving family by her side. She was born July 25, 1939, in Willimantic, the daughter of Linwood and Ella (Preble) Leighton. Dian was a graduate of Foxcroft Academy, graduating as valedictorian of her class in 1957. She married her high school sweetheart, Ernie Bonsey, the following November.
In amongst having and raising her five children, she worked at Koritsky's Department Store in Dover-Foxcroft, Cottle's Grocery Store in Waterville, the family business, Bonsey Brothers in Dover-Foxcroft, and Hathaway Shirt Co. in Dover-Foxcroft. Once her children all were in school, Dian was school secretary at SeDoMoCha Middle School in Dover-Foxcroft, where she stayed for 25 years. After retiring in 2005, Dian spent many summers with her family at Sebec Lake. She also enjoyed camping, especially at Cobsook and Seawall.
Dian was a long-standing parishioner of St. Thomas Aquinas Catholic Church in Dover-Foxcroft.
She was predeceased by her loving husband, Ernie Bonsey, whom she has missed terribly; her parents; her sisters, Ruth Dauphinee, Barbara Fairbrother and Carol Budden; and her brother, Milton Leighton. Dian leaves behind her five loving children, Michael Bonsey, Gayle Bonsey, Debra Hayes and husband, Scott, Pamela Richardson and husband, Kenneth, Melissa Ware and husband, Douglas, all of Dover-Foxcroft. She also leaves seven grandchildren, Tyler Bonsey of Dover-Foxcroft, Jerod Hayes and wife, Kathryn of Berwick, Justin Hayes and wife Samantha of Bangor, Michaela Hayes and boyfriend, Maurvin Patel, of Bangor, Kate Nichols of Dover-Foxcroft, Jason Richardson of Sangerville, Christopher Ware of Dover-Foxcroft; three great-grandchildren, whom she absolutely adored, Alexis, Carter and Michael; two step-grandchildren, Michelle Kearny and Scott, of Lewiston, and Stephen Ware of Dallas, TX; three step-great-grandchildren, Caitlin, Austin, and Andrew Kearney of Lewiston; and many nieces and nephews.
Friends are invited to call 6-8pm Thursday, August 1, 2019, at the Lary Funeral Home, Dover-Foxcroft. A Mass of Christian Burial will be conducted 10:00am, Friday, August 2, at Our Lady of the Snow, St. Thomas Aquinas Catholic Church, Dover-Foxcroft. In lieu of flowers memorial contributions may be made to Alzheimer's Association, 383 US Rt 1, Suite 2C, Scarborough, ME 04074. Condolences and memories may be expressed at www.laryfuneralhome.com.