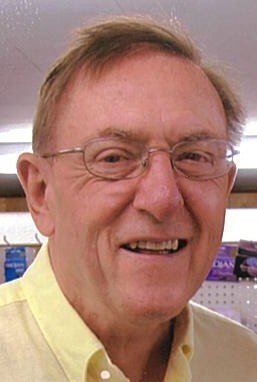 Obituary of Harold W. "Gus" Harris
Greenville – Harold "Gus" W. Harris, 79, husband of Carol (Jouve) Harris, passed away July 3, 2019, at C.A. Dean Memorial Hospital. He was born September 7, 1939, in Greenville, the son of Wilbur H. and Ida M. (Bell) Harris. Gus felt very fortunate to have had the opportunity to serve his community of Greenville for over 50 years as a pharmacist. He owned and operated the family businesses, Harris Drug Store which was established in 1896 by his grandfather, and the Dairy Bar which was established in 1952 by his parents. In 2012, he was honored to be elected ceremonial mayor of Greenville for the 175th anniversary celebration. He was a proud member of the Moosehead Lake Kiwanis Club, the Colombia-Doric Masonic Lodge No. 149 and the Anah Shriners.
A great golfer and athlete himself, Gus was an avid sports fan and he was especially a huge supporter of the Boston Red Sox. He enjoyed time spent at Wilson Pond, and will be remembered for his sweet tooth and love of chocolate, great sense of humor, and laughter.
He is survived by his wife of almost 56 years, Carol; a son, Michael; a daughter, Lisa; and many cousins, nieces, nephews, and in-laws. He was predeceased by a sister, Arlene Cameron.
A memorial service with Masonic prayers will be conducted 3PM Saturday, July 13, 2019, at the Union Church in Greenville. Those who wish may make memorial contributions to the Moosehead Lake Kiwanis Club, P.O. Box 685, Greenville, Maine 04441, or the Greenville Recreation Department, P.O. Box 1109, Greenville, Maine 04441. Arrangements are in the care of the Lary Funeral Home. Messages of condolence and memories may be expressed at www.laryfuneralhome.com.