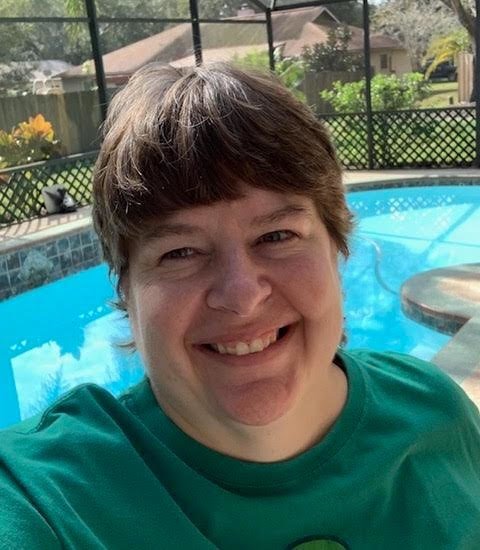 Obituary of Julie Ann Pingree
Dover-Foxcroft- Julie Ann Pingree, 53, passed away peacefully May 27, 2019 (Memorial Day), at Northern Light Eastern Maine Medical Center, Bangor. She was born April 10, 1966 (Easter Sunday), in Dover-Foxcroft, the daughter of John E. and Rachel (Scribner) Pingree.
A proud U.S. Army Veteran, Julie had a love of sports and animals, especially her dog, Bella. She had a gift for entertaining children. Her favorite spot on earth was Steadman's Landing, Sebec Lake. Julie had an unshakeable faith which was particularly evident while she was living with stage four cancer for thirty months. Julie's love of photography was shared as she was the unofficial historian of many family and friend's events. From childhood through adulthood she was known by her sports nickname "Ping". Her interest in sports never wavered and her team loyalty could be seen during losses as well as wins.
Julie is survived by her parents of Dover-Foxcroft; her brother, Michael Pingree of Portland; her sister, Margie (Pingree) Burnett and her husband, Robert, of Colorado Springs, Colorado, and their children, Tyler Burnett of Denver, Colorado and Megan Burnett of Monument, Colorado. She was predeceased by a special aunt, Elizabeth "Aunt Dib" Scribner. She will be missed by numerous friends whom she loved dearly and who have been very supportive throughout her life.
A memorial service in celebration of Julie's life will be held at 10AM Saturday, June 1, 2019, at the Lary Funeral Home, Dover-Foxcroft. Her good friend Rev. Meg Queior will be officiating. Burial with military honors will be at the family lot in the Dover Cemetery, Dover-Foxcroft. Memorial contributions may be made to the Thompson Free Library, 186 East Main Street, Dover-Foxcroft, ME 04426, or the Dover-Foxcroft Area Food Cupboard, P.O. Box 141, Dover-Foxcroft, ME 04426. Messages of condolence and memories may be expressed at www.laryfuneralhome.com.