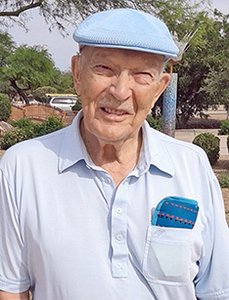 Obituary of Erwood E. McPhetres
GREEN VALLEY Dr. Erwood E. McPhetres (Mac), of Green Valley, Arizona (past residence: Kennebunk, Maine), passed away Thursday evening, December 13, 2018, at his home - La Posada at Park Central. His scattered family spoke to him throughout the day before he passed peacefully at 11:55 P.M.

Born on February 3, 1925, in Dover-Foxcroft, Maine, to Ernest (Webby) McPhetres and Marion Bush McPhetres, Mac grew up on his parents' dairy farm in Sangerville. He shared chores and adventures with his younger sister Elizabeth (Betty). According to Betty, Erwood "Was the BEST older brother I ever had!"

After graduating co-valedictorian from H.S., Mac attended University of Maine - Orono until 2 years of Army occupied his life. Mac, by then, decided to enter the field of dentistry. He graduated from Northwestern University - Chicago with a D.D.S. degree in September of 1952.

Mac had met and married a registered dietician Eileen Chamberlin and together they decided to return to Mac's home state of Maine. They settled in Kennebunk where Mac went into practice with dentist Dr. D.M. Small. Later Mac would buy the practice and continue his career of general dentistry for a total of 40 years - retiring in 1992. During those years he was very active in Kennebunk Rotary Club, York County Dental Association, Maine Dental Association, New England Dental Association, and The American Dental Association, shouldering leadership positions in all.

Mac and Eileen raised five (5) children - Terry, Patty, Zoleen, Regan, Kolin - provided them with higher educations, and gave each of them memories and experiences to cherish.
Mac and Eileen traveled the world, hiked, skied, gardened, and enjoyed 52 years of life together until Eileen passed away suddenly while on a tour in Mexico.
Mac continued to reside in Green Valley, AZ, where he met and married Carol Haskins. Adult children now numbered her 6 and his 5. Mac and Carol continued to travel the world and socialize on the extensive campus of their retirement community at La Posada at Park Central. It was a very good life!


Erwood (Mac) leaves behind his spouse, Carol and her extended family; his 5 children: Terry Jon McPhetres and wife Dixie of Maine; Patricia M. Basden and husband John of Texas; Zoleen M. Wells and husband Russel of WA; Regan S. McPhetres of Maine; and Kolin S. McPhetres and wife Lila of WY; 6 grandchildren; 6 great grandchildren; sister Elizabeth Soper and husband Edwin of Maine; nieces, nephews, cousins, friends from "all over"; and the wonderful, caring nurses and staff at La Posada.

There will be no services in Arizona as per Mac's request. He will be cremated and graveside services for family will be held in Maine later this coming spring. The ground will thaw. The snow banks will melt. The sun will shine. And those who loved Erwood, Bub, Mac, Doc, Daddy, Dad, Grandpa will laugh again.
Our Funeral Home Is Proud to Be Family Owned and Operated
Dedication to personal and caring service.