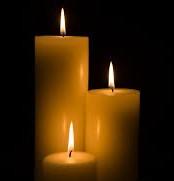 Obituary of Trisha Dershem
Dover-Foxcroft - Trisha Fern Dershem, 27, passed away at her home on November 17, 2018.
She enjoyed listening to music, leisure time on her outdoor swing, and going for long walks in the sunshine. Trisha was supported and cared for by staff at the Charlotte White Center for many years and she will be greatly missed by those lucky enough to have known her.
Friends are invited to call from 10:00 a.m. until time of memorial service at 11:00 a.m., Tuesday, December 4, 2018, at the Lary Funeral Home, Dover-Foxcroft, with Pastor Phil McGlauflin officiating. Condolences may be expressed at www.laryfuneralhome.com.
Our Funeral Home Is Proud to Be Family Owned and Operated
Dedication to personal and caring service.