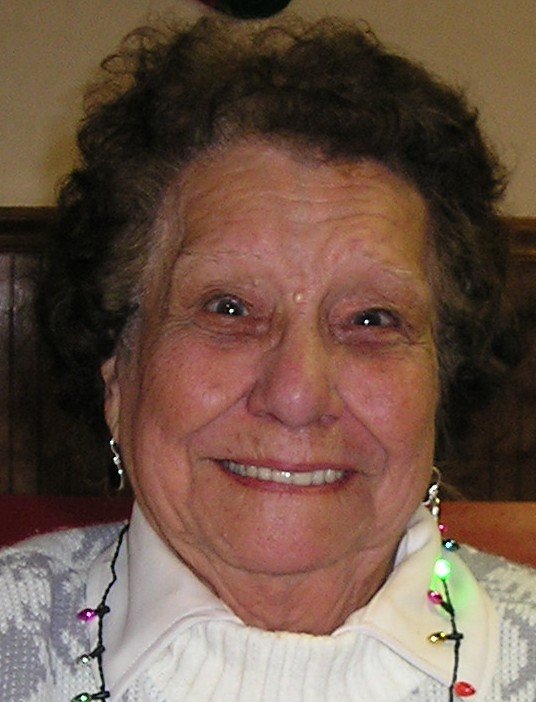 Obituary of Mary E. Kelley
Mary E. Kelley
Milo and Casco – Mary E. Kelley, 98, wife of the late Edward E. Kelley, died August 3, 2018, at Country Village Assisted Living in Casco, Maine.
Mary was born October 5, 1919, in Raymond, the daughter of Harry R. and Elsie (Berry) Delan. Mary was one of twelve children. Mary was known for her wonderful sense of humor and wit and her enthusiasm and expression of love for the simple pleasures of life. She never missed a Friday night playing Bingo at the local Legion hall in Milo. Mary loved painting, crocheting, gardening, cooking and baking, going out to eat at Smith's Restaurant in Brownville, and taking rides to see deer and other animals. In her years in Milo, she enjoyed two cats adopted from a local animal shelter. She was a member and past president of the J.P. Chaisson American Legion Auxiliary in Milo. Mary also was employed at Kelley Bros., in Milo, a family lumber business. In her earlier years, she was employed at the shipyard in Portland, Maine. She was a member of the Raymond Village Church, and more recently had attended the Katahdin Christian Church in Brownville, where she also volunteered at the food cupboard.
Since 2009, Mary has resided at Country Village Assisted Living in Casco where she made many friends and enjoyed the crafts and festivities.
She is survived by a sister, Evelyn Sawin of Poland; a half-brother, Franklin Drew of Raymond and several nieces and nephews. Mary will be greatly missed by her niece, Shirley Littlefield, and her husband, Sherry, of Windham.
The family would like to thank Albina Bryant and her wonderful staff at Country Village Assisted Living (CVAL) for the excellent care and compassion they have shown to Mary throughout her years there.
Graveside funeral services will be conducted 11:00 am Wednesday, August 8, 2018, at the family lot in Evergreen Cemetery in Milo. In lieu of flowers, donations can be made to: CVAL, P.O. Box 600, Casco, ME 04015. Arrangements are in the care of the Lary Funeral Home. Messages of condolence and memories may be expressed at www.laryfuneralhome.com.
Our Funeral Home Is Proud to Be Family Owned and Operated
Dedication to personal and caring service.