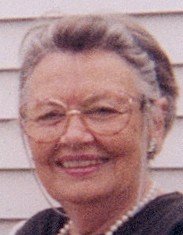 Obituary of Joyce Olson
Dover-Foxcroft – Joyce "Bunny" Olson went to be with the Lord on May 7, 2018, at the age of 93. She was born in Camden, NJ, in 1924, the daughter of Howard Laessle and Marie-Luise von Glissman. She had a quiet faith but she trusted that Jesus Christ was her Lord and Savior. Bunny was a quiet listener, a caring wife, mother, and loyal friend. People loved Bunny. Her innate warmth and kindness drew people to her. She had a great sense of humor and an infectious laugh. Throughout her life, she handled her share of difficult circumstances with grace and forgiveness. During the heyday of the Piscataquis Golf Club in Guilford, ME in the 1970s, Bunny coordinated fun dinner and dancing evenings while her husband, Wes, was the pro for 5 years. She was a "lady"; she had class. She had been a physically beautiful woman as well, winning the town beauty contest in her teens. In her 20s she had been approached by a Hollywood talent scout to test for a movie role, which, recently married, she declined. She graduated from the Philadelphia Academy of Fine Arts in the 1940s. But mostly she enjoyed her family, friends, pets, gardening, canning her home-grown veggies, and puttering around her home. Her loving presence will be dearly missed.
Bunny leaves a daughter, Carole Olson of Sangerville, ME; a son, Robert Olson of Monson, ME; four grandchildren; and three great-grandchildren. She was predeceased by her husband of 51 years, Wes Olson, Jr., and her son, Roger Olson of Williston, VT.
Services will be announced at a later date. Arrangements are in the care of the Lary Funeral Home, Dover-Foxcroft, ME. Condolences may be expressed at www.laryfuneralhome.com.
Our Funeral Home Is Proud to Be Family Owned and Operated
Dedication to personal and caring service.