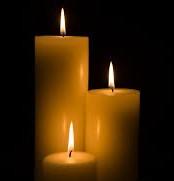 Obituary of Wayne E. Thompson
Guilford and Lake Worth, FL- Wayne E. Thompson, 87, husband of the late Elizabeth (Reed) Thompson, passed away peacefully April 15, 2018, at his Lake Worth, Florida home. He was born June 29, 1930, in Guilford, the son of Maurice and Elida (Noddin) Thompson. Wayne served the U.S. Navy and Air Force proudly and retired as a Technical Sergeant.
He is survived by two daughters, Sandra Cimbaro and Susan Millsap; his son, Charles Thompson; his granddaughter, Pamela DiBelardino; and his grandson, Clinton Millsap. Burial will be with his parents in the Lawn Cemetery, Guilford. Arrangements are in the care of the Lary Funeral Home. Messages of condolence and memories may be expressed at www.laryfuneralhome.com.
Our Funeral Home Is Proud to Be Family Owned and Operated
Dedication to personal and caring service.