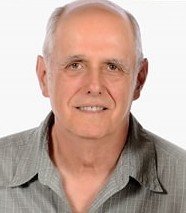 Obituary of Larry Crockett
Larry L. Crockett, 69, of Dover-Foxcroft, died at his home on December 8, 2017. He was born in Dover-Foxcroft on June 14, 1948, to the late Rupert and Doris (Austin) Crockett.
Larry loved to spend time with his family, especially at camp on Center Pond, playing games, and travelling. He especially loved taking cruises to Bermuda and was a proud "survivor of the Bermuda Triangle." Larry enjoyed watching NASCAR races and was a lifelong fan of John Wayne films. He was a long-haul truck driver for thirty-five years and a Boy Scout Scoutmaster for his sons for 7 years. Most recently, Larry could be found working hard in his workshop, Dover Small Engine Repair.
He leaves his wife and high school sweetheart, Nancy (Nelson) Crockett; his children, Roy Crockett and wife, Sandra, of Dover-Foxcroft, Rob Crockett and wife, Keva, of Gorham, and Allison Labbe of Brunswick; eight grandchildren who he adored, Amber, Brian, Vanessa, Cassandra, Dayton, and Doria Crockett, Jack Thrain, and Austin Sullivan; one great-grandchild, Greyson Sadlowski; his brother, Denis "Neil" Crockett and wife, Sharon, of Virginia Beach, VA; brothers and sisters-in-law, Bob and Lois Nelson, and Gary Nelson and Nancy Murphy; and nieces, nephews, and cousins.
The family will receive friends and loved ones Thursday December 14 from 6 to 8 P.M. at Lary Funeral Home in Dover-Foxcroft. In lieu of flowers, contributions in Larry's memory can be made to the Friends of the Maine State Library for the Maine State Library Talking Book program for the blind and visually impaired, c/o Cheryl Ramsay, 64 State House Station, Augusta, Maine 04333-0064.
Our Funeral Home Is Proud to Be Family Owned and Operated
Dedication to personal and caring service.