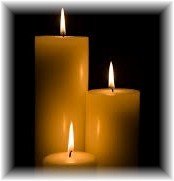 Obituary of Dr. Anne McKusick
Baltimore, MD – Dr. Anne Bishop McKusick, 95, wife of the late Dr. Victor A. McKusick, passed away September 16, 2017, in Baltimore, MD. She was born September 7, 1922, in Rochester, NY, the daughter of Fred M. and Grace (Common) Bishop. She is survived by two sons, Kenneth A. and his significant other, Maureen Curran, and Victor W. and his wife, Lori; a daughter, Carol A.; a sister, Cecily Carman and her husband, Edward; and a sister-in-law, Nancy McKusick.
A graveside committal service will be conducted 11am Friday October 13, 2017, at the family lot in Pingree Center Cemetery, Parkman. A reception for family and friends will follow at the Parkman Grange Hall. In lieu of flowers, memorial contributions may be made to The McKusick Short Course, The Jackson Laboratory, 600 Main St., Bar Harbor, Maine 04609. Local arrangements are in the care of the Lary Funeral Home, Dover-Foxcroft, ME. Condolences may be expressed at www.laryfuneralhome.com.
Our Funeral Home Is Proud to Be Family Owned and Operated
Dedication to personal and caring service.