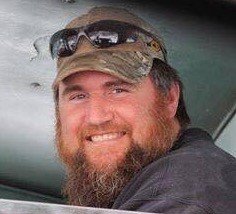 Obituary of Robert Todd
Monson – Robert Glen Todd, 43, husband of Coralyn A. (Knight) Todd passed away unexpectedly September 20, 2017, at Eastern Maine Medical Center, Bangor. He was born May 19, 1974, in Dover-Foxcroft, the son of Russell H. and Patricia (Morin) Todd. He was a graduate of Piscataquis Community High School, Class of 1992 and a graduate of Northern Maine Technical College. Bob had been employed by Farrin Brothers & Smith Construction, Haley Construction, and most recently he was self employed - BT's Design and Excavation. To say Bobby had an obsession with hunting would be an understatement. He loved to be out in the woods, and if he wasn't there he was talking about it, or watching it. Bobby also had a passion for trucks and old cars.
He is survived by his parents; his wife, Cori; a daughter, Kolbylynn; a brother, Petie Morin; a sister, Linda Hewey; two brothers-in-law, Scott Knight and his wife Mona, Peter Knight and his fiancé Marnie; and a sister-in-law, Marcia Martin. He leaves 15 nieces and nephews, Felisha, Spring, Brandon, Seairha, Derek, Nathan, Farren, Leslie, Brittany, Aaron, Emily, Lee, Katie, and Heather; and 10 great-nieces and nephews, Mark, Tyson, Keairha, Hailey, Brandon, Mya, Sadie, Colbie, Samuel, Jamey, and Emmitt. Also surviving are several special aunts and uncles and many, many cousins. He was predeceased by a brother-in-law, Ed Martin.
A graveside gathering will be held 11am Saturday, September 30, 2017, at the family lot in Hillside Cemetery, Monson. A Celebration of Life will follow the service at the Abbot Town Hall. In lieu of flowers or money, take a child outside with you. Create a lifelong love of the woods, and being out in nature; whether it is hunting, fishing, or just enjoying the surroundings. Bobby always believed that would make the world a better place. Arrangements are in the care of the Lary Funeral Home, Guilford. Condolences may be expressed at www.laryfuneralhome.com.
Our Funeral Home Is Proud to Be Family Owned and Operated
Dedication to personal and caring service.