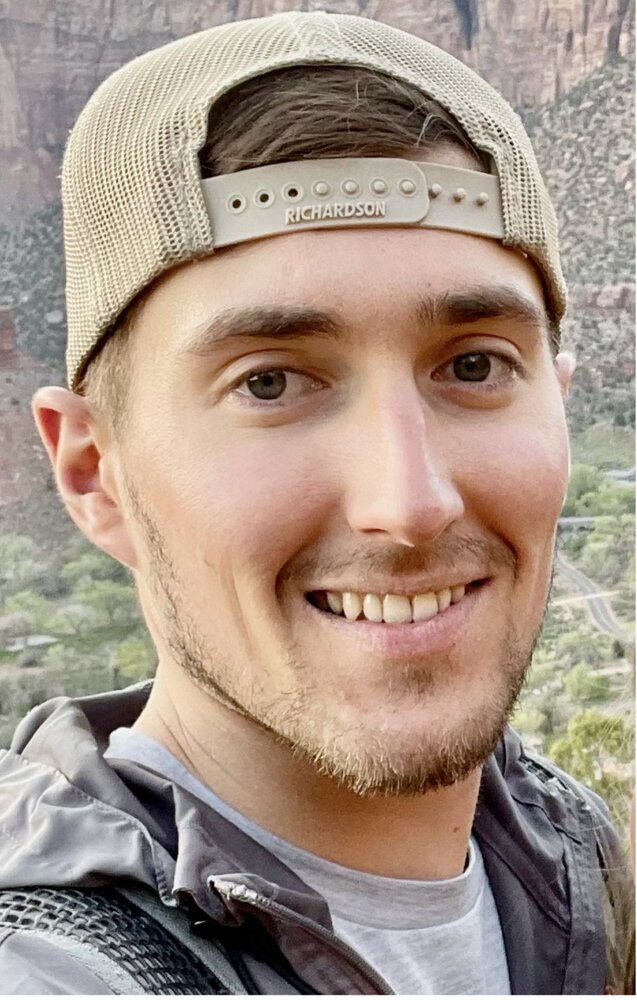 Obituary of Eli James Olson
Please share a memory of Eli to include in a keepsake book for family and friends.
Charleston - Eli James Olson, 25, died on Saturday, April 29th, 2023 in a tragic hiking accident on El Capitan mountain in Guadalupe Mountains National Park, Texas. Eli was born August 1, 1997 in Dover-Foxcroft, the third of five children born to Scott and Doreen Olson of Charleston. Eli is survived by his parents Scott and Doreen Olson, his sister Rebecca Fischer and her husband Daniel, and his brothers Luke, Jacob, and Esau. He is also survived by his niece Lucy Fischer and nephews Daniel and William Fischer, numerous cousins, aunts and uncles, his paternal grandmother Evelyn Olson, and his loving girlfriend Annie Cushman. He leaves behind innumerable friends who share in his family's loss. Eli was home-schooled until his senior year of high school and was a graduate of Foxcroft Academy (FA). He was a captain on the wrestling, baseball, and soccer teams at FA, then carried his love of soccer to Maine Maritime Academy (MMA). In addition to playing soccer, he was involved in leadership positions in the Regiment and aboard the Training Ship State of Maine. He graduated Summa Cum Laude in 2019 with a BS in Marine Transportation and was commissioned as a Naval Officer in the Strategic Sealift Program. After graduation, he worked as a Deck Officer on oil tankers for Crowley Maritime and served as a LTJG in the US Navy Reserve. Eli didn't need much to have a good time. If he had a bicycle, a soccer ball, and bluetooth speaker he could entertain himself forever. He loved anything outdoors and adventurous. He could be ready for a multi-day excursion in five minutes. His physical ability and mental toughness made it hard for anyone to keep up, but he was always patient and encouraged others to join him on his adventures. Eli made the most of every day. In addition to his athleticism, Eli loved music and art. He took up the guitar and quickly became a talented player. He brought out the best in everyone he met and had a talent for connecting with people who were in most need of a friend. His faith was an important part of his life. He was an active member of Knights of Columbus at MMA and made an effort to attend church regardless of where his adventures found him. Eli truly appreciated everyone and everything in his life. In our 2022 Christmas letter Eli wrote: "Don't take anything for granted. Hope to see you all soon." There will be a Mass of Christian Burial on Monday, May 15th at St. John's Catholic Church, 217 York Street, Bangor at 10 AM. All are invited to the church to pray in the presence of Eli's body beginning at 9 AM. Burial will follow the Mass at Pine Grove Cemetery in Dover-Foxcroft. After the burial family and friends are invited to a gathering at his family home in Charleston. Donations in Eli's memory will enable affordable pick up soccer field time for alumni, community, and current soccer players at Jim Robinson Field House, Foxcroft Academy (975 W. Main St, Dover-Foxcroft, ME 04426). May many carry on Eli's love of pickup soccer, staying active, and creating community. Arrangements are in the care of Lary Funeral Home, Dover-Foxcroft. If you have an Eli memory or photo, please share at rememberingelijamesolson@gmail.com.