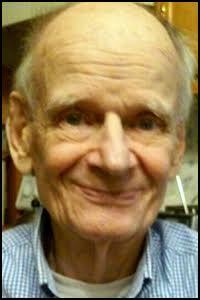 Obituary of Thomas Howard, Sr.
Milo- Thomas S. Howard, Sr. began his journey home on May 9, 2017, peacefully surrounded by family at his home in Milo. Tommy was born in Lagrange, Maine on November 12, 1921, the only son of Joel and Laura (Borden) Howard.
Tommy grew up on the family farm in South Lagrange and in Lagrange and Milo. At an early age he developed and displayed his love for "tinkering" and fixing all things - broken or not. From early electric motors and tube-type radios, to Indian motorcycles, to Model A Fords, he never met a challenge he couldn't beat. He graduated in a class of four from Lagrange High School in 1939. He worked for a time in Portland and answered the call of his country in 1941 enlisting in the Army Air Corp, where he served as a radio operator, once flying on a mission with General Jimmy Doolittle. He quickly ascended the ranks, becoming Master Sargeant in 22 months. He always credited his rapid promotions to the lessons learned in rural Maine of hard work and accountability-principles he held firm until his final days. At the time of his death he was one of the few remaining B-17 radio men.
Upon his discharge, he returned to Lagrange and with $25 opened a small radio repair shop on Milo's Main Street. Soon after he met the love of his life, Christine "Chris" Hoskins, whom he married on June 20, 1948. He was predeceased by Chris in 2004. His love for his wife was almost eclipsed by his love for his children, grandchildren and great grandchildren.
Tommy and Chris expanded their Milo business by gaining a Firestone franchise, followed by owning and operating the Western Auto in Milo, and finally Howard's True Value. Always a true and equal partnership, they sold the business in 1978.
Warm summer afternoons and cool weekend days greeted all who knew Tommy at his haven on Sebec Lake, a place where he truly found peace. He and Chris sold the family home on Park Street in Milo and relocated to D'Este Road, a spot he treasured and was so fortunate to draw his last breath from.
He was a 72-year member of the American Legion, a long-time member of the Park Street United Methodist Church, a former trustee of the Milo Community Hospital and was active in the Milo Board of Trade.
He was most happy "tinkering" and could always be called upon to fix the grandchildren's broken toys.
Tommy is survived by his 4 children Stephanie Maciejewski and her husband Leo; Vikki Carey and husband Russell; Valerie Cowing and husband Ken; and Thomas, Jr. of Lake Wylie, South Carolina; 12 grandchildren 27 great grandchildren; his sister Margaret; sister-in-law Bertha; and many nieces and nephews. In addition to his wife Chris, he was preceded in death by his sisters Madeline, Lois, Ruth, Dorothy and Marion. He was also predeceased by his daughter-in-law, Sheri Howard. Tom was cared for with great love in the last year's of his life by Gayle White and Jackie Willinski.
In the words of one of Tom's many fond descendants, "Tom seemed to so reflexively understand the important things in life.... if we all could just be more like him.... so kind, so touched by the source of all things...."
A celebration of Tommy's life will be held at Milo's Park Street United Methodist Church on Sunday, May 21 at 1 p.m. Following the service there will be a time of fellowship and story sharing at the Church. Burial will be at Milo's, Evergreen Cemetery. Remembrances to honor his memory can be made to the Park Street United Methodist Church, 15 Park Street, Milo, Maine 04463. Condolences may be expressed online at www.laryfuneralhome.com

Our Funeral Home Is Proud to Be Family Owned and Operated
Dedication to personal and caring service.