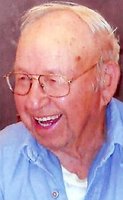 Frank E. Clark
Dover-Foxcroft – Frank E. Clark, 95, passed away May 26, 2019, after a short illness. He was born October 29, 1923, in Dover-Foxcroft, the son of Leon and Margie (Howard) Clark. He lived in Dover-Foxcroft his entire life, attending Foxcroft Academy before serving with the U.S. Army during World War II.
After working for the Canadian Pacific Railroad for 35 years, he continued to enjoy farming, watching sports, and playing cribbage. He enjoyed spending time in his garden and sharing the produce with others. He was a firm believer in hard work and set a good example for all. He will be greatly missed by family, friends and neighbors.
He is survived by his wife of 71 years, Charlene (Cookson) Clark; two brothers, Gordon Clark and Dennis Clark; two sons, Quentin Clark and his wife, Mary, and James Clark and his partner, Katherine Holt; a daughter, Cindy Badershall; grandchildren, Thomas Clark, Shelley Stoots, Tracey Pinkham, Ryan Clark, Greg Clark, Josh Clark; and great-grandchildren, Courtlyn, Brysyn, Carson, Hunter, Taylor, Korgan, Brynn and Zander. He was predeceased by his parents; brothers, Kenneth, Howard and Leon Jr.; sisters, Bertha Kaufman, Alice Wilson, and Bernice Burdin; and a grandson, Justin Clark.
A graveside funeral service will be conducted 10:00 am Friday, May 31, 2019, at the family lot in Rural Grove Cemetery, Dover-Foxcroft. Arrangements are in the care of the Lary Funeral Home. Condolences and memories may be expressed at www.laryfuneralhome.com.