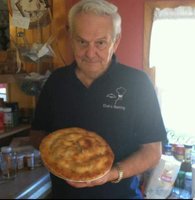 Richard N. LaBree, Sr.
Milo - It is with great sadness that we announce the passing of our beloved Richard N. LaBree. Richard died on February 20, 2019, in Milo. He was born September 26, 1936, to Alice Bigelow, (step-father, Clyne Bigelow), and father, Fred LaBree.
Richard had been a heavy equipment operator for St. Regis Paper Co. for many years. An avid hunter, he will be remembered for his love for music and for his passion for pickling and baking, which led to his well-known local business, Dick's Baking. He had been a member of St. Paul the Apostle Catholic Church for thirty years where he sang in the choir. He also attended St. Francis Xavier Catholic Church in Brownville Junction and Saint Leo the Great Catholic Church in Howland.
Richard was predeceased by his loving wife of sixty–four years, Phyllis A. LaBree; mother, Alice Bigelow; step-father, Clyne Bigelow; father, Fred LaBree; and brother, Sam Bigelow.
He is survived by his four daughters, Victoria Stanley (David), Susan Bear (Martin), Debra Merrithew (Tony) and Alice Wettengel (Mark); his two sons, Richard LaBree, Jr. (Roxanna) and Clyne LaBree (Terri); and his two sisters, Betty Lou Smith and Susan Mendoza. He leaves numerous grandchildren, great-grandchildren, nieces, nephews, and his best friend and companion, golden retriever Rusty. Richard was deeply loved by his family. He will be greatly missed and his memory will forever remain in our hearts.
A Mass of Christian Burial will be conducted 11:00 a.m. Friday, March 1, 2019, at Sts. Paul the Apostle and Francis Xavier Catholic Church in Milo. Spring burial will be in the family lot in Evergreen Cemetery. Arrangements are in the care of the Lary Funeral Home. Condolences and memories may be expressed at www.laryfuneralhome.com.