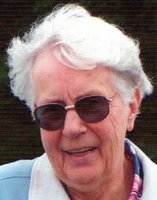 Rachel Wyman
Guilford – Rachel Wyman, 89, wife of the late Thomas J. Wyman, passed away peacefully February 8, 2019, at Hibbard Nursing Home, Dover-Foxcroft. She was born June 27, 1929, in Willimantic, the daughter of Rodney John and Mary Gertrude (Allen) Leighton. She graduated from Milo High School in 1947 while living with her aunt and uncle, Edna and Fay Stevens. After graduating, she married Thaxter B. Jones on October 18, 1947. During their 23 year marriage, Rachel was a homemaker and raised four children, Cynthia Opal Jones, Thaxter Burton Jones, Jr. "Gippy", April Elyse Jones, and Bruce Allen Jones. She was active in Eastern Star. She later married Thomas J. Wyman and lived in Guilford. Rachel worked at Guilford Industries, Ben Franklin Store and Ames. She was a talented seamstress. She enjoyed spending time with family, especially her grand and great grandchildren. She and Tom enjoyed dancing. She enjoyed knitting and many crafts. During retirement Rachel and Tom braided rugs and sold them at craft fairs. She also volunteered at the Abbot school. Rachel and Tom attended the Evangelical Free Church In Abbot where she taught Sunday School. Rachel and Tom volunteered with Daryl Witmer's mission work at AIIA. We will miss her sharp wit and beautiful white hair that she graced us with until we said our goodbyes.
Rachel is survived by two daughters, Cindy and husband, Brian Turner, and April and husband, Peter Buchanan; a son, Bruce Jones and wife, Cathy; six grandchildren, Daniel Buchanan and wife, Misty, Sara-Mae Turner Burke and husband, Christopher, Charity Buchanan Buchan and husband, Nathan, Chad Jones and wife, Veronica, David Buchanan and special friend, Jill Ihle, and Brandon Jones and wife, Megan; 19 great-grandchildren, Ian, Grace, Claire, Lucy, Lincoln, Anne, Griffin, Elana, Madelyn, Jonathan, Jadynn, Owen, Egan, Shawn, Logan, Dustin, Kayla, Mason and Rachel and several nieces and nephews, as well as 2 brothers-in-law, Maurice and Robert Wyman and sister-in-law, Charlene Leighton. Rachel will also be missed by her childhood best friend of 89 years, Marilyn Buchanan. In addition to her husband, Thomas, she was predeceased by parents; son, Thaxter Jones, Jr.; brother, Duane Maurice Leighton; sister, Janet Elaine Leighton Taylor Law, grandson, Christopher Turner, and great-grandson, George Buchan. And last, but not forgotten, her beloved dog Scotty.
A memorial service will be held 1PM Saturday, June 29, 2019, at the Willimantic Chapel. Following the service a burial will be in the family lot at the Riverside Cemetery, Willimantic. Refreshments will follow at the Willimantic Chapel Fellowship Hall. In lieu of flowers, please donate to an Alzheimer's research, Alzheimer's Association of Maine, 383 US Route 1, Scarborough, ME 04074. www.alz.org/Maine/ Arrangements are in the care of the Lary Funeral Home. Messages of condolence and memories may be expressed at www.laryfuneralhome.com.