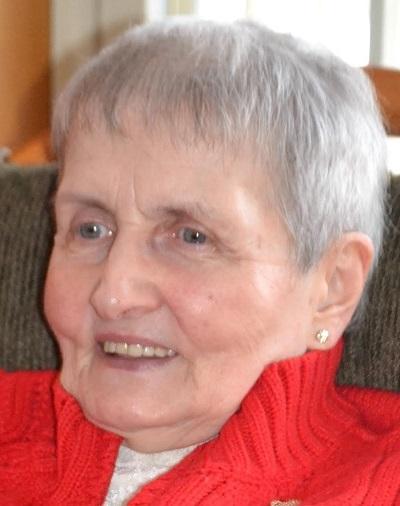 Obituary of Clementine Gilbert
Rockwood – Clementine, Clem, Mum, Nana, or Aunt Clem, was loved by all who knew her. She peacefully joined her husband, Joseph Henry Gilbert, Sr. and many other beloved family members on May 16, 2017.
She was surrounded during the past several months by her nine children: Nancy, Henry, Vanessa, Mark, Lori-Anna, Clarissa, Anna-Maria, Darryl, and Darren, as they recalled special family memories shared growing up on Moosehead Lake in Rockwood, across from Mt. Kineo.
Clementine was raised in Rockwood by Marie Elizabeth and Joseph Lewis Munster and was one of 15 siblings: Florence, Isabelle, Celeste, Frances, Joseph, Kathleen, Dora Mae, Lewis, Martin, Stephen, Wilhelmina, Julia, Frederick, and Bruce.
She loved her siblings, their spouses and the gift of many nieces and nephews. Nana cherished her 19 grandchildren and 18 great-grandchildren. They made her very happy with their visits and updates on what they were up to. She welcomed her sons and daughters-in-law into the family: Matt, Jeri-Ann, Rodney, Dorie, Ron, Murray, and Vern.
Family was everything to her. She was always planning family gatherings – "the more the merrier". Her sense of humor and laugh made everyone feel welcome and loved. Her excellent cooking drew everyone together during the holidays, special celebrations, and at the Mystic Moon restaurant which she operated for approximately 15 years.
Clementine's faith in God gave her the strength and resilience to raise a large and loving family. She was proud of her large family and felt everything was "Just Right."
Visiting hours are on Friday, May 19, 2017, from 1-3pm for friends, and 4-6pm for family, at Vanessa and Rodney's home at 47 East Road, Greenville. A Mass of Christian Burial will be celebrated 1:00pm Saturday, May 20, 2017, at the Union Church, Main Street, Greenville, with Rev. Fr. Aaron Damboise officiating. After the Mass a reception will be held at Bartley's Event Center on Pritham Ave, Greenville at 2pm. Private burial will be at the family lot in the Greenville Cemetery. In lieu of flowers, donations may be sent to Holy Family Catholic Church Building Fund/Kitchen, PO Box 4457, Greenville 04441. Arrangements are in the care of the Lary Funeral Home, Greenville. Condolences and memories may be expressed at www.laryfuneralhome.com.
Our Funeral Home Is Proud to Be Family Owned and Operated
Dedication to personal and caring service.