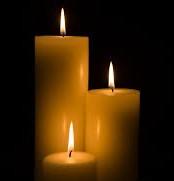 Obituary of Catherine Spruce
Dover-Foxcroft – Catherine Ann (Taylor) Spruce, 81, wife of the late John M. Spruce, passed away Wednesday, May 10, 2017, surrounded by her family at Mayo Regional Hospital. She was born January 3, 1936, in Millinocket, daughter of Earle D. Taylor and Margaret K. (Mott) Taylor. Catherine was a graduate of Stearns High School, Class of 1954. Following high school, she attended University of Maine at Presque Isle. In 1957 she married her high school sweetheart, John. Catherine spent several wonderful years working at the Little Red School House where she developed a fondness for special needs children. She then worked as a dental receptionist at the office of Dr. William Forbes followed by several years at SeDoMoCha Middle School where she was an Assistant Librarian and where she would eventually retire. Catherine had a love for knitting, reading, golfing, baking pies, but of all her hobbies, nothing compared or was more enjoyable than spending time with her family at South Twin Lake when her children were young or later in life watching her grandchildren play in the family pool.
Catherine is survived by her four children, daughter, Jody McKusick, and her husband, Paul; son, Jay Spruce; daughter, Jennifer Gross and her husband, Donald; and daughter, Julie Bowen. She is also survived by her 10 grandchildren and 5 great-grandchildren, with three more great-granddaughters on the way, Melissa McKusick and her partner, Josh, and their children, Hunter and Harper; Ashley Buttice and her husband, Ryan, and their son, Gavin; Scott McKusick; Trey Spruce and his wife, Jen, Brittany Denis and her husband, Chesney, and their mother Debbie Lambert; Kobie Spruce, and his mother, Tracey Leeman; Colton Gross and Taylor Gross; Craig Bowen and fiancé, Monica and son, Carter; Nicole Hollobaugh and husband, Shawn, and son, Chase. She is also survived by her sister, Elizabeth Steeves, and her daughter, Brenda Fanjoy and family; brother, Walter Taylor and his wife, Beth, their children, Tracy and Marcy and their families.
The family wishes to extend a heartfelt thank you for the wonderful care Catherine received during her stay at Hilltop Manor. During her final days, she received extraordinary and compassionate end-of-life care while at Mayo Regional Hospital.
Friends are invited to call from 1pm until time of memorial service at 2pm, Sunday, May 14, 2017, at the Lary Funeral Home, Dover-Foxcroft, with Deacon Bob Landry officiating. Condolences may be expressed at www.laryfuneralhome.com.
Our Funeral Home Is Proud to Be Family Owned and Operated
Dedication to personal and caring service.