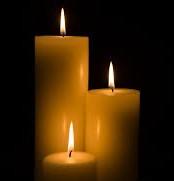 John F. Buckley
Dover-Foxcroft - John F. Buckley, 64, passed away peacefully April 9, 2018, at his home with his loving wife and best friend of thirty years at his side. He was born August 20, 1953, in Melrose, Massachusetts, the son of John and Claire Buckley. A graduate of George Washington University in Washington, D.C., John worked in sales and then education all his life.
He is survived by his wife, Michele Connolly of Dover-Foxcroft; his son, Owen Buckley of Rhode Island; three sisters, Susan Buckley of Massachusetts, Linda Ulerick of Pennsylvania, and Kathy O'Neill and her husband, Bracken, of Connecticut.; two nieces, Clare and Caroline; one nephew, Jameson; and many friends.
Arrangements are in the care of the Lary Funeral Home. Messages of condolence and memories may be expressed at www.laryfuneralhome.com.