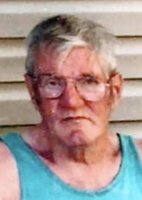 Richard L. Norton
Harmony- Richard L. Norton, 83, died April 1, 2018, at a Bangor hospital. He was born March 25, 1935, in New Vineyard, the son of Helen Gowen. Richard was raised by Clyde Brasier and Shirley Norton. He worked many years in the woods with his son, Dennis, and at one point they were the top woodcutters in the state. His favorite place was Kingsbury Pond and he enjoyed his time spent there with his son, Steven and Steven's partner, Darrin Cowette. Richard loved being outside and would sit happily on the porch from sun up to sun down. He always enjoyed time spent with his great-grandchildren, Ciara, Lilly, Leyah, and Landon, and will always be remembered for his special bond with his daughter, Vickie.
Richard was predeceased by his wife, Julia (Stewart) Norton, and two sons, Steven and Richard "Dicky" Boutilier. He is survived by three sons, Roger Boutilier and his partner, Donna Melvin, of Dexter, David Boutilier and his wife, Susan, of Corinna, and Dennis Boutilier and his wife, Ola, of Abbot; five daughters, Linda Herrick and her husband, Irving, of Harmony, Rosie Washburn and her husband, Wayne, of Dexter, Sandra Lawler and her husband, Larry, Christine Gifford, and Vickie Boutilier, all of Harmony; several grandchildren and great-grandchildren, including special granddaughters, Brandy Boutilier, and Felicia Boutilier and her husband, Matthew Maloon, all of Harmony; a special son-in-law, Howard Gifford of Harmony; and several nieces and nephews, including a special nephew, Tony Stewart of Pittsfield.
Friends may call from 6 to 8 p.m. Thursday, April 5, 2018, at the Lary Funeral Home, 21 Oak St. in Guilford. A graveside funeral service will be held 11 a.m Thursday, May 17, 2018, with Rev. Levi Pratt officiating, at the North Road Cemetery, Harmony. After the interment, a gathering will be held at Vickie's home, 17 Cooley Road, Harmony. Messages of condolence and memories may be expressed at www.laryfuneralhome.com.