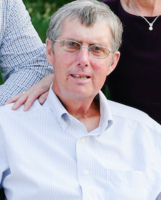 Charles A. Cleaves
Sangerville – Charles A. Cleaves, 64, passed away March 21, 2018, at his home surrounded by his loving family, after a long struggle with Inclusion Body Myositis. He was born February 16, 1954, in Dover-Foxcroft, to Faunce and Marion (Larrabee) Cleaves.
Charlie graduated from PCHS and EMVTI and then immediately returned to work on the family potato farm with his parents and brother. Charlie was a third generation potato farmer who loved the farm and all the adventures it brought. He was a work-aholic and enjoyed every hour he could spend at the farm. At the end stages of his disease, Charlie was left unable to walk, drive or "turn a wrench", but his mind was engaged in every step of the farm operations. It was his life. It brought great joy to Charlie when his son, Tobey, chose to become the fourth generation to help run the farm.
Charlie always believed in community involvement. Throughout his life, he served on several boards, including the Guilford-Sangerville Sanitary District, where he served as treasurer for thirty years, the Town of Sangerville as a selectman, the Piscataquis Soil and Water Conservation District, and the Sangerville Development Corporation. He was an active member of the Four Winds Snowmobile Club, a supporter of the ATV club, and a life-long member of the East Sangerville Union Church.
He will be sadly missed by his loving wife, Peggy (Trafton); his daughter, Erin Clark and her husband Joshua, of Sharon, VT; his son, Tobey of Sangerville; his brothers, Faunce L. (Margaret) Cleaves and family of Piermont, NH, and William A. (Jennifer) Cleaves and family; his sister, Ellen Haley (Rob) of Sangerville; five nephews, William, Justin, James, Ian, Aidan; and a niece, Helen.
Friends are invited to call 4-7pm Friday, March 30, 2018, at the Lary Funeral Home, Dover-Foxcroft. A memorial service will be conducted 11am Saturday, March 31, at the Guilford United Methodist Church, with Pastor Maureen Cipullo officiating. In lieu of flowers, Charlie would like donations to be made to the East Sangerville Union Church Restoration, 298 E Sangerville Road, Sangerville, ME 04479. The restoration of this old country church nestled in the middle of Cleaves Farms was important to him.
Interment will take place later in the family lot in Knowlton Mills Cemetery. Condolences may be expressed at www.laryfuneralhome.com.