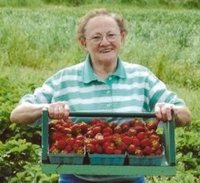 Betty Ann Ward
Greenville Junction- Betty Ann Ward, 79, passed away March 11, 2018, at Tissues Country Estate, Athens, where she had been a resident for the past 5 years. She was born June 4, 1938, in Greenville Junction, the daughter of Havelock and Annie May (Beck) Ward. She attended Greenville schools and graduated, Class of 1956. Her love in school was basketball. She was a great player even though she was short; she made it up for this lack of height with her speed. Betty was all over the floor and made many baskets for her team.
She lived in Greenville Junction all her life until her time at Tissues Country Estate. After graduation she went to work for Phyllis Raye as a store clerk at what was then, Breton's Store. After a few years she went down the road to Monson to work at Moosehead Manufacturing for 20 years. She retired at the age of 62. Betty was on the local bowling teams and loved every minute of it. She was a fun, loving person and was kind to everyone around her. Betty became the last rock of the Ward family and she was there for all of them. She was the youngest of 16 children. Betty loved to garden, work outside her home, and to pick strawberries by the baskets full and share them around. Her pride and joy was all her family, and her home which was always well kept with beautiful flowers.
She was predeceased by her parents; sisters, Florence, Stella, Julia, and Tina; half-sister, Maude; brothers, Russell, Johnny, Milton, Arthur, and Merle; half-brothers, Cecil and Victor; three infant siblings; and her sisters-in-law and brothers-in-law. Betty leaves behind many nieces, nephews, and great and great-great nieces and nephews to carry on the Ward family pride and she loved all of them dearly.
The family wishes to thank Tissues Country Estate and Maine General Hospice Care for taking such great care of Betty. You all made her feel like she was home and she loved being there and cared for all the staff and residents. Peace be with you all.
A memorial graveside service will be held 11AM Thursday, May 24, 2018, at the family lot in Greenville Cemetery, with Rev. Marilyn Rohdin officiating. In lieu of flowers, memorial contributions may be made to Tissues Country Estate Activity Fund, 212 Fox Hill Road, Athens, ME 04912, or to Maine General Hospice Care, 10 Water Street, Suite 307, Waterville, ME 04901. Arrangements are in the care of the Lary Funeral Home. Messages of condolence may be expressed atwww.laryfuneralhome.com.