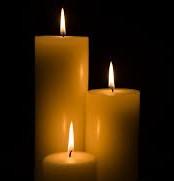 Barbara J. Baughman
Dover-Foxcroft - Barbara J. Baughman, 71, passed away unexpectedly at her home, February 26, 2018. She was born in Chelsea, MA to William and Ethel (MacDougall) Hill. She enjoyed going hiking and camping with her family and spending time with her grandchildren and great-grandchild.
She leaves behind her mother, Ethel D. Hill, of Dover-Foxcroft; her daughter and son-in-law, Michelle and Devin Lynch, of Londonderry, NH; her granddaughter, Kimber Lynch, of NY; two grandsons, Kyle and Kameron Lynch, of Londonderry, NH; and a great grandson, Michael Lynch, of Londonderry, NH. She was predeceased by her father, William Hill; her brother, William R. Hill; and her son, Hugh J. Patton.
Arrangements are in the care of the Lary Funeral Home. Condolences may be expressed at www.laryfuneralhome.com.