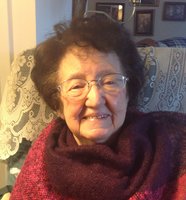 Carolyn A. Pomeroy Preble
Charleston- Carolyn E. Pomeroy Preble, 97, died February 25, 2018, after a brief illness at a local hospital with her family by her side. She was born in Sept 13, 1920, in Pittsfield the daughter of Joseph Lee and Alma (Overlock) Elkins. Carolyn was married to Myron Pomeroy June 10, 1937, in Pittsfield until his death Feb 9, 1988. She met and married Wallace "Buddy" Preble June 26, 1992, in Charleston until his death May 27, 2004.
Carolyn was a warm and loving mother, grandmother, and great-grandmother, and she will be sadly missed by all of her family. She loved the Lord with all of her heart and was an inspiration to her family and friends. She was the matriarch of the Elkins family and carried the cane as the oldest member at the family reunions every year since its inception. Carolyn worked in area shoe shops for many years as a stitcher, and was a member of the Charleston Pentecostal Church. She was a lover of life and all that it entails, and made the best biscuits ever. She loved to laugh and taught her children the importance of enjoying life.
In addition to her husbands, Myron and Buddy, Carolyn was predeceased by four sisters; Evelyn, Eugenia, Imogene, Ruth; six brothers, Fred, Erroll, Elmore, Floyd, Sherman and Phillip; oldest daughter Mary Hopkins; and oldest son, Roy Pomeroy.
She leaves behind 4 loving children, David Pomeroy and his wife Mavis, Linda Joy, Carol D'Amboise, and Deanna Kneeland and her husband Kevin; 22 grandchildren; and many great-grandchildren, great-great-grandchildren, nieces, and nephews.
Family and friends may visit 10am until time of funeral service at 11am Saturday, March 3, 2018, at The Charleston Church with Pastor Vinny Greene officiating. Spring burial will be in the family lot of the Corinthian Cemetery, Corinth. Arrangements are in the care of the Lary Funeral Home. Messages of condolence and memories may be expressed at www.laryfuneralhome.com.