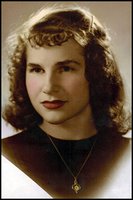 Annie "Margaret" Howard Peters
Bangor–Annie "Margaret" Howard Peters, 88, passed away February 25, 2018, surrounded by her loving children at the Maine Veterans Home, Bangor. She was born December 15, 1929, in Lagrange, the daughter of Joel Wilson and Laura (Borden) Howard. Margaret was blessed with a talented singing voice, she won local talent and beauty contests, and placed third in the Miss Maine contest of 1950. Professionally, she was employed for a period of twenty years at the Bangor Mental Health Institute, rising to the position of ward charge. There she conceived of and implemented many progressive therapy programs for the benefit of geriatric residents.
She was predeceased by her parents; husband, Malcolm Peters of Milo; and siblings, Madeline, Lois, Dorothy, Ruth, Marion, and Thomas, Sr. Margaret is survived by her four children, Daniel E. Peters of Hampden, Diana McSorley of Belfast, Andrea Shirley of Bangor, and Nancy Theriault and husband, Philip, of Glenburn; four grandchildren, Erika Oliver of Brewer, Ryan Largay of St. Johnsbury, VT, Daniel R. Peters of Bangor, and Michael Shirley of Windham; and four great-grandchildren.
Family and friends may visit 12:00 noon until time of a funeral service celebrating Margaret's life at 1:00 P.M. Thursday, March 1, at the Park Street United Methodist Church, Milo, with Rev. Mike Morris officiating. Following the service, memories of her life and fellowship will be shared among family and friends at the church. A spring burial will be in Milo's Evergreen Cemetery. Margaret's family wishes to extend special appreciation for the loving care she received at the Maine Veterans Home in Bangor. Arrangements are in the care of the Lary Funeral Home, Milo. Condolences may be expressed atwww.laryfuneralhome.com