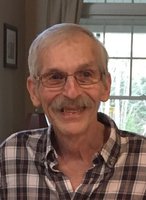 Gary D. Robinson
Monson- Gary Dennis Robinson, 65, passed away peacefully, surrounded by family February 17, 2018, at his sister Gale's home in Bangor. He was born November 24, 1952, in Bangor, the son of George and Elizabeth (Currier) Robinson.
Gary is survived by his daughter, Katherine Robinson of Florida; three brothers, Dana Robinson and his wife, Nora of Hampden, Timothy Robinson and his wife, Sandy of Garland, and Daniel Robinson of Brewer; three sisters, Carolyn Nutter and her husband, Marvin of Florida, Gale Tinker and her husband, Gordon of Bangor, and Angela Burrill and her husband, Earl of Glenburn; and several nieces and nephews. In addition to his parents, Gary was predeceased by his sister, Dolores Robinson.
A funeral service will be held 12 noon Tuesday, February 20, 2018, at the Lary Funeral Home, Dover-Foxcroft, with Pastor David Ray, Jr. officiating. Burial will be in the Lake Road Cemetery, Monson, in the spring. Messages of condolence and memories may be expressed at www.laryfuneralhome.com.