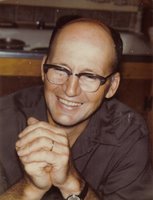 Murray V. "Whit" Mayo
Milo- Murray "Whit" Mayo, 93, passed away Friday, February 2, 2018, at Mayo Regional Hospital, Dover-Foxcroft. He was born May 29, 1924, in Milo, the son of Vernie and Mary (Erskine) Mayo. Murray was the final living sibling of the 12 children born to them.
Uncle Murray was known for his great stories and his wonderful sense of humor. He loved to camp, hike, boat, and the outdoors in general. Murray worked for many years as a logger with his brother, Richard, in the Katahdin Ironworks and Jo Mary Lake area. He had an amazing ability to build and fix many things including ferris wheels, boats, and his own camper.
Murray's greatest joy came from serving Jehovah God. He was baptized June 7, 1941, as one of Jehovah's Witnesses in Rockport. He helped many come to an accurate knowledge of the Bible and its wonderful promises for the future. Murray was a fine public speaker and spoke at many assemblies and conventions of Jehovah's Witnesses in the Northeast area.
Murray married the love of his life Shirley Herring, on October 27, 1950, in Milo at the farm where Murray had grown up. They began full time ministry together serving in Presque Isle and Norway for many years and developing friends for life as they did. After that they settled to Elmwood Park in Milo, where he built their home. He went on to serve as an elder in the Milo congregation for many years and continued to serve until his death. Murray and Shirley loved spending time together and helping others; they did this up until she was hospitalized and passed away August 18, 2014.
Murray and Shirley never had children of their own but they had many nieces, nephews, and others who knew them as Uncle Murray and Aunt Shirley and loved them dearly. Murray is survived by several nieces, nephews, grand nieces, and grand nephews. In addition to his loving wife, Shirley, Murray was predeceased by his parents; sisters, Violet, Elsie, Beatrice, Barbara, Edith, and Jean; and brothers, George, Leon, Gordon, Irving "Jack", and Richard "Bud".
The family wishes to thank the Milo congregation of Jehovah's Witnesses for all their kindness and compassionate care of Uncle Murray. They, also, wish to thank his close friends, Dennis and Cathy Drew, for all their kindness, care, and love they have shown to Murray and the family.
A memorial service will be held 1:00 PM Saturday, February 24, 2018, at the Milo Kingdom Hall of Jehovah's Witnesses, 472 W. Main St. Arrangements are in the care of the Lary Funeral Home. Messages of condolence may be expressed at www.laryfuneralhome.com.